Every mobile phone needs a SIM to work and that could either be a removable SIM or an eSIM. An average user knows that a SIM card is what connects their phone to the network operators.
Every mobile phones also come with built-in storage which is where the phone's operating system, pre-installed and downloaded apps, images, videos, and other files are stored. Manufacturers may later decide to give the phone a storage expansion slot which in turn allows you to add extra storage to your device while others do not, which means if you run out of space, you have no choice but to delete files or back them up to the cloud or another device like your computer.
Now, about phones with support for storage expansion, some come with a hybrid SIM tray.
Hybrid SIM allows you to either use a SIM card in one of the SIM slots or a MicroSD card. So, if you are going to use up a slot for the MicroSD card, you can only use one SIM card on your phone. Well, that us not the case with a Super SIM.
What is a Super SIM?
A Super SIM combines a SIM card and a MicroSD card into a single card. The first Super SIM was launched last year in China and was introduced in various capacities starting from 32GB and goes up to 128GB. These Super SIM cards also come with read and write speeds of 90MB/s and 60MB/s respectively.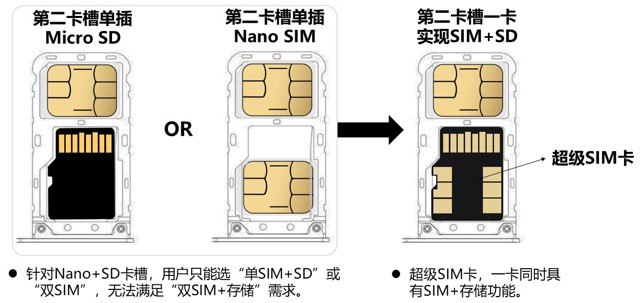 A Super SIM can store millions more of data when compared to what a contemporary SIM can store which is just about 128KB. Super SIMs also have a one-click backup and restore feature, so you can pop it into a new phone and have your data from your old phone restored. They are also secure (CC EAL6+ security certification) so you don't have to worry about the safety of your data.
Advantages Of A Super SIM
For users: They don't have to choose between a SIM card or a MicroSD card if your phone has a hybrid SIM tray. Super SIM offers you both additional storage and a second SIM.
For manufacturers: there is no need to manufacturer a phone with a triple card tray or one with a dedicated MicroSD card slot. This means, there can be extra space for a slightly larger battery or an extra component.
Disadvantages Of A Super SIM
At the moment, Super SIMs are limited to China and are still pretty expensive. A 32GB Super SIM sells for ¥99 (~$14) while a 64GB card sells for ¥199 (~$28). That is pretty expensive when compared to the price of a MicroSD card with the same amount of storage.
While price will and can come down in the future, adoption is another thing. The first 5G Super SIM sold in China is a partnership between China's UNIIC memory technology Co. Ltd, makers of UNIC Memory and China Unicom. Unless more network operators adopt the Super SIM and partner with storage manufacturers, Super SIM may not become mainstream and may actually even be abandoned.
Another disadvantage is that a Super SIM can only work with a phone that has a hybrid SIM card tray. These rules out phones (especially flagships) without that type of SIM tray, thus making adoption difficult.
Another possible disadvantage is customers' unwillingness to purchase a Super SIM and the hassle of replacing their regular SIM card with a Super SIM. With more people ordering phones online and just popping their SIM card into the new device, there isn't a need to go to your network operator's outlet for anything.
One question that pops up in relation to this is what happens to your Super SIM when you switch to a phone that doesn't support storage expansion?
Is Super SIM The Future Of SIM Cards?
Though, the Super SIM have its advantages, it seems like a novelty feature and one that might not scale if network operators do not adopt it.
There is also the case of manufacturers such as Apple and OnePlus who will rather not add support for storage expansion to their devices.
However, Super SIMs should be given a chance by more network operators. While a lot of flagships don't have support for storage expansion, millions of mid-range phones and entry-level phones with a hybrid SIM tray are sold annually and these customers can be the target for Super SIMs.