Nokia 8.1 Specs Caught On GFXBench, Powered By A Snapdragon 710
Of late, HMD Global has been a bit busy with a lot announcements, unveiling the Nokia 7.1, Nokia 7.1 Plus (X7) and the Nokia 3.1 Plus. An now, an interesting GeekBench listing has appeared to detail yet another imminent HMD device – the Nokia 8.1.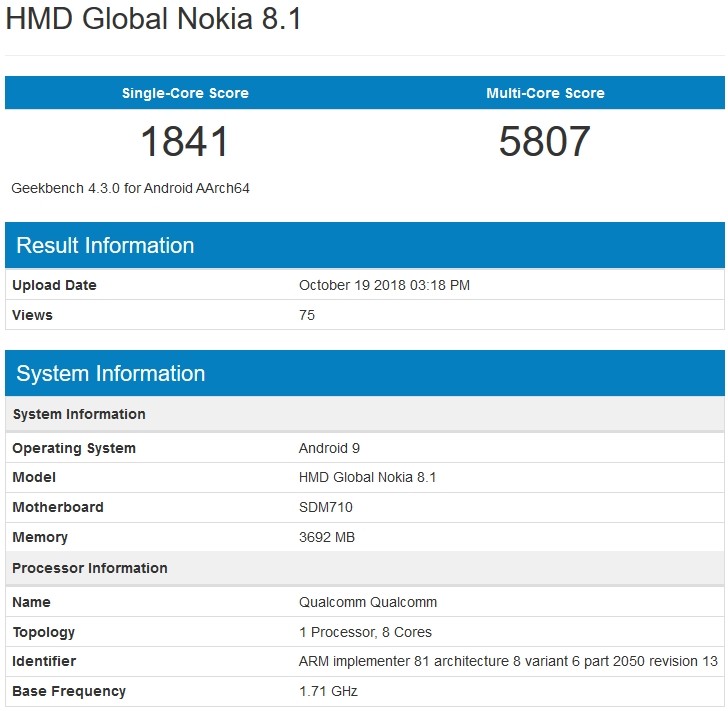 It's a pretty fresh update from the bench as it's dated October 19. Rather than using a codename, the device comes with its full market moniker. Some other hardware details include the Snapdragon 710 chipset, also properly reported with a legible model number and a base frequency of 1.7 GHz – exactly as expected, since GeekBench tends to pick up the lowest clock speed clusters in a chipset.
Coupled with mid-range chipset, which also offers solid battery efficiency thanks to its efficient 10nm manufacturing process. is a 4GB of rounded-up system RAM.
This reports appears to be reminding us of the Nokia 7.1 Plus (X7), earlier mentioned. The phone also uses the Snapdragon 710 chip and has 4GB off RAM in its base configuration. The differences could actually come in display size and battery, to name a couple of points. However, let us wait and see for sure.
Lastly, but not actually the least, GeekBench says the Nokia 8.1 runs on Android 9 Pie, out of the box. This is pretty great news, especially coupled with HMD's continuing dedication to the Android One program and timely updates. However, that also makes the new Android version kind of expected, especially now that the Nokia 7.1 was also recently spotted running Pie.